1. DEFENDING AGAINST DUI/DWI
The consequences of a drunk driving conviction are serious and long reaching. In addition to the possibility of jail time and large fines, you may lose your driver's license, your insurance premiums will increase and you will have a permanent criminal record.
The best way to protect your rights is to work with experienced criminal defense attorneys. Located in West Chester, the attorneys of Ramsay & Ramsay, PC, provide skilled, effective defense against DUI/DWI charges.
2. A STRONG DEFENSE AGAINST DRUNK DRIVING CHARGES
Drawing off decades of experience in criminal defense, as well as skills gleaned as a past prosecutor, Tom and Marissa Ramsay know the best defense is one built on solid law, tried and true strategy and thoughtful planning.
Whether charged with your first DUI/DWI, charged with driving on a suspended license or facing a felony-level charge, the firm will build a strong defense that gets you the best outcome possible.
If this is your first offense, you may be eligible for Pennsylvania's Accelerated Rehabilitative Disposition (ARD) program. ARD provides reduced penalties to individuals who complete the program. Ramsay & Ramsay, PC, will help you determine whether ARD is a good option for you.
In addition to drunk driving, the firm handles charges involving combined influence — drugs and alcohol — charges involving the use of prescription medicines and driving on a suspended license (DUS), and defends those who are under 21 against DUI/DWI or DUS.
Serious Penalties For DUI Charges
Without proper representation, you could be facing significant jail time, fines and license suspension as outlined in the penalty matrix below.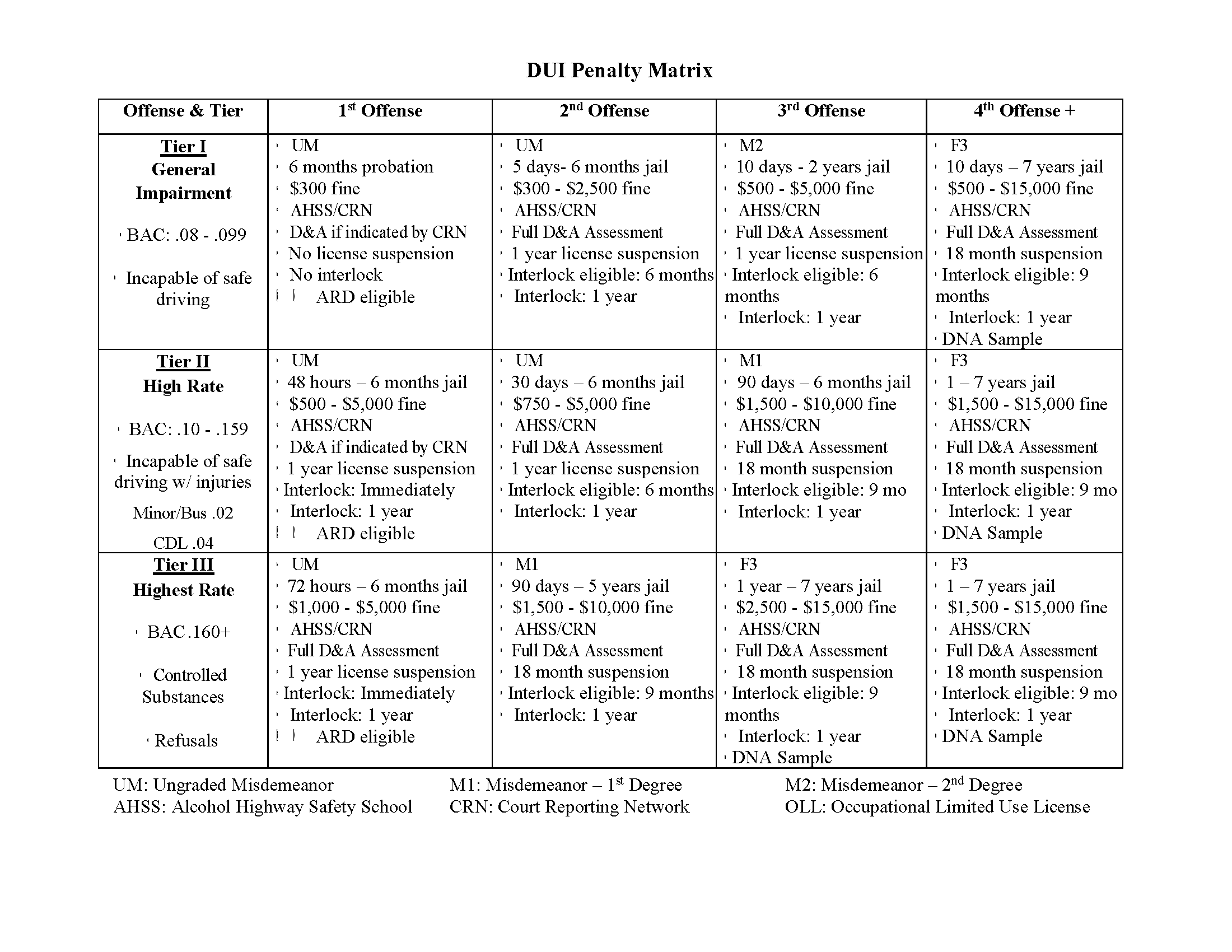 3. GET LEGAL HELP NOW
If you've been charged with a DUI/DWI the worst thing you can do is wait to get legal help. There are steps you can take, before trial, to improve your circumstances.
Attorneys Tom and Marissa Ramsay take a proactive approach. They coordinate all necessary drug and alcohol treatment — as required by law — before going in front of the judge. This approach benefits you in two important ways:
First, prosecutors and judges often take a more lenient approach when individuals show they are taking DUI/DWI charges seriously.
Second, getting these items done ahead of time can result in lesser penalties, including the possibility of having community service requirements reduced or waived.
4. SCHEDULE A CONSULTATION
If you've been charged with a DUI/DWI, do not wait to get legal help. Contact Ramsay & Ramsay, PC, today at 610-235-4000 or online.